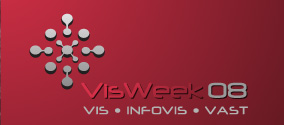 As we mentioned in an earlier post, Palantir was recently invited to the IEEE's VisWeek in Dayton Ohio, and was honored to be invited to participate in the VAST Interactive Challenge as part of VisWeek.
After winning an award for Interactive Visual Analytic Environment, Palantir was one of three teams selected to participate in the interactive session from 73 VAST Challenge entries. For the challenge, we were given a completely new set of data to analyze. We had 30 minutes to import 3 disparate datasets into Palantir, 30 minutes to train an analyst that had never used Palantir, and then 2 hours for the analyst to explore the data.
The data for the challenge came from three different sources, with a set of questions to answer for each set of data. There was an infectious outbreak, a Wikipedia edit war, and an abduction from a city park. Over the three challenges, there were over 100,000 datapoints to analyze. All of the data revolved around a fictitious town in Florida, Barracuda Springs, and was linked to the fictitious cult that was the center of the 2008 VAST Challenge. While two members of our team were importing the three datasets, the third team member was working with our analyst (each of the three teams was given a analyst from a nearby analytical organization). In 30 minutes, our analyst was able to learn how to conduct relational, temporal, geospatial, and statistical analysis in Palantir. After the 30 minutes of training, she was able to easily navigate the Palantir workspace, and solve all three challenges. Below is her work (hit the link to check it out).
Her conclusion was that Palantir was "viciously good software" and that she would be asking her boss if they could acquire Palantir for their work. Hit the link below to see screenshots and explanations for one of the challenge workflows.
We really enjoyed the VAST Challenge, and our experience at VisWeek. There were a lot of outstanding papers, posters, and speakers at VisWeek, and we were inspired by many fantastic visualizations that might soon make their way into Palantir's Finance and Government Platforms. We are also looking forward to the 2009 VAST Challenge!

Challenge: Infectious Outbreak
Our analyst started with the first challenge, analyzing an infectious outbreak in Barracuda Springs. The notional source of this data was reported school absences, so we see gaps in the timeline for weekends.
The Outbreak
She started by searching for all infected houses, and then plotting them geospatially. She immediately identified that the infection was a 5 week outbreak, peaking in week three, and then tailing off. With Palantir's temporal filters, she quickly identified the first house to have the disease was 208, on Thursday May 5th:
Week 1 – starting slow
Increasing our temporal filter to the first week, we saw that the infection was in the north of Barracuda Springs, isolated in two neighborhoods (points on the map that correspond to selected time range in the timeline (bottom) are highlighted in yellow):
Week 2 – burning bright in north
The second week saw much of the north infected, but not yet into the south:
Week 3 – everyone's got it
The third week shows the infection peaking, and moving to the rest of community. The analyst also noted that the neighborhoods from the first week appear to be clearing up:
Week 4 – northside burnout
By week 4, infections are exclusively in the south of Barracuda Springs, and in week 5 the infection clears up:
Hidden Pattern: refusing treatment
Also of interest was the fact that there are certain geographic areas where the infection lasts for 10 days. This was an Easter egg put into the data — the areas of 10 day infections were neighborhoods in the city where the fictitious cult had settled, and they were refusing to take treatment. Using the histogram, the data leaps out you. We were the only group to discover this: